All About Love & Wisdom With Sadhev
'He was a very mischievous lad. I remember him as a young child, running around the house with his toy water gun spraying holi coloured water on everyone.The ladies would always run away from him!' laughs Mrs. Jaydevi.

A little serious, a little fun and with a whole lot of love - the story of the Cholayil mother-son duo creating magic at work is definitely something different.

---
In conversation with
Jayadevi Cholayil & Lasakan Cholayil

---
HOST: YOSHITA PARWANI / CATEGORY: BEAUTY & GROOMING / PUBLISHED: 05-02-2021
We can tell you it all started in the year 2016, when Lasakan Cholayil along with his mother Jayadevi were visiting their ancestral home in Vallapad, Kerala. They came across their forefather, Cholayil Kunju Maami Vaidyar's family legacy of practicing the Art Of Ayurveda. Lasakan learned that their 200 year-old heritage was still honoured in today's textbooks! 'We wanted to bring the countless miraculous treatments and exceptional cures that would restore inner balance and enchant outer beauty to the people of city that live in a world full of noise, chaos and chemicals.' says Lasakan. With that, Sadhev was born in 2019.
Let's get to know a little more about the mother and son's fun-loving, rollercoaster journey!
A Mom-umental Relationship

---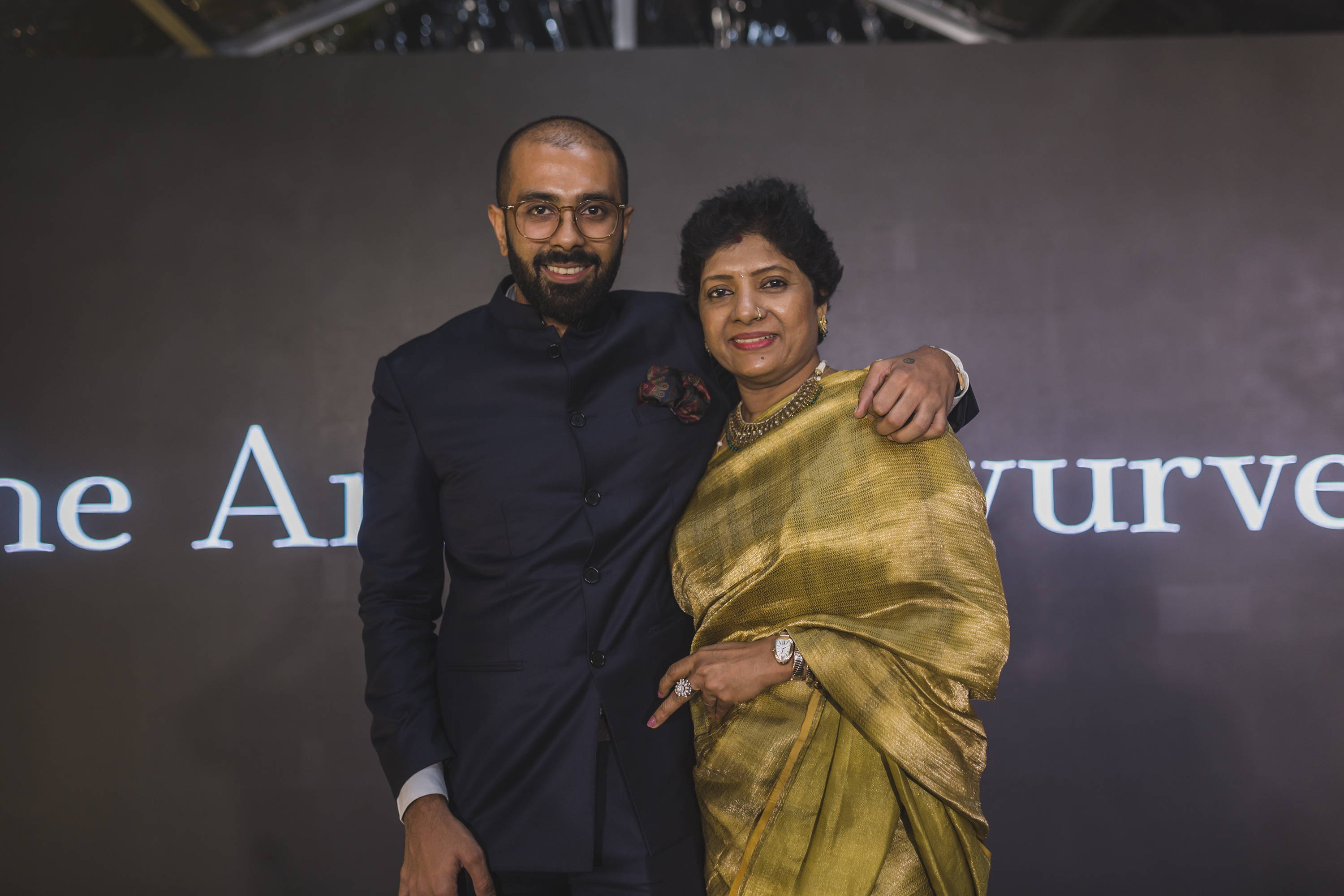 Q: How is it like working with your mother?

Lasakan: (laughs) Oh, I can tell you it's not easy!
In the early stages, our lines were blur but now, as we have progressed in the work space, our roles have become well defined. My mother has all the insights about the Ayurveda practices and processes we carry out, while I look into the management and marketing for Sadhev.
Q: What are your thoughts on Lasakan at work?

Jayadevi: His efforts at work are commendable. From formulating, designing, picking the feel, the elements and the aesthetics to the selling and more - it's all him. I'm grateful that my son took the right path in the world. He plants trees, initiates social campaigns for the environment and does so much more. When we first started being in a professional space together, it definitely was a little challenging to tell him a few things straight forward but now that we are aware of each other's strengths - we are always there for each other!
Q: What is your fondest memory of Lasakan growing up?

Jayadevi: The first that pops up in my mind is the one time we were at a beach resort for a holiday and I can remember him building little sand castles and calling me to join him. That definitely was a sweet moment.
Another one was when right before his trip to the U.S. he spoke to me about pursuing my own passion. He asked me to remove some time out for myself - work on me, my beliefs and ideas. That was a heart-warming moment for me; seeing how supportive my son was in my choices.
Q: How do the both of you spend quality time together?

Lasakan: We try to have as many meals together as possible because food connects us the most and I think that's when it's wonderful to relax and catch-up about topics apart from work.
---
Q: What does the word 'Sadhev' mean?

Lasakan: Sadhev translates to 'forever' in Sanskrit. Very interestingly, it is the Vedas spelt backward! We later on added an 'h' in the name for numerology purposes.
Q: Which is your most memorable creation from the collections of Sadhev?

Lasakan: Oh, the Aloe Vera & Saffron Gel. It has an interesting story behind it. In my eleventh grade I suffered from acne issues. I went to dermatologists and tried multiple creams but nothing really seemed to work. Then my mother asked me to try Aloe Vera on my face. In a month's time my face was clear! The fact that now everyone can try this miracle liquid makes it my favourite of all our products.
Jayadevi: We've created this gel with lots of love and since I've always personally used it, I passed it on to my children as well. Aloe Vera is immortal. When you add a few Ayurvedic ingredients to it, it's even better. What's special is that our gel has cactus extracts in it too. We've always learned that the cactus plant can withstand the highest temperatures so we added it to the gel and it turned out to be a great blend!
Q: What are some of the most challenging hurdles y'all came across?

Lasakan: There's always been challenges in the path when it comes to minor things like artwork, design and so on but I think the biggest one was naming the brand! We went through numerous baby name websites, books and what not, through hundreds of names - only to find all of them used up. Finally when we chose Sadhev and established Sadhev.com is when it all felt real.
Another major issue we faced was getting all our products to be Ayurveda certified. It was tough to get a license in time to begin with.
Q: Tell us about your accomplishments!

Lasakan: Our biggest accomplishment was coming into existence. The kind of validation and sense of certainty that was established when Sadhev was live on all platforms was unmatched. It was a beautiful feeling!
---
Q: What's next for Sadhev?

There's so much more ahead! We're looking to further expand our portfolios and cater abroad. After all, a strong global presence has been the aim ever since we started Sadhev.
Q: What word of wisdom would you give today's youth?

Jayadevi: Firstly, knowing the importance of hydration. Drink more water children! Second would be exercising, working out or even doing Yoga and Pranayam which in my personal experience, does help a lot. When it comes to your face, remember good skin doesn't come easy. Use our tailam that has 27 Ayurvedic ingredients in it - including Saffron!
Lasakan: Never stop moving. Keep meeting new people and doing new things, that's how you learn, make a network and create your royalty. Nothing comes instantly. After all, things that are built to last, take time to build.
---