Bhringraj: The Miracle Herb For Your Hair
Bhringraj (scientifically known as Eclipta prostrata) is a traditional herb belonging to the sunflower family that is popular across the globe for its miraculous work. It translates to 'false daisy' thanks to its white coloured flowers and long stalk. Some of its common names are 'Bhangra' in Hindi, 'Tekarajah' in Sanskrit, and 'Garga' in Kannada.

---
Watch the power of science and the art of Ayurveda meet to
become your hair's ultimate saviour.

---
AUTHOR YOSHITA PARWARNI / CATEGORY BEAUTY / PUBLISHED: OCT-5-2020
Bhringraj's cooling nature makes it excellent for soothing the skin and calming the mind while its rejuvenating factor helps strengthen bones, teeth, nails, sight, hearing, and even memory. Moreover, its bitter quality helps it cleanse the liver by increasing bile flow.
There's a long list of reasons why this 'kesharaja' aka the king of hair is going to be your best friend.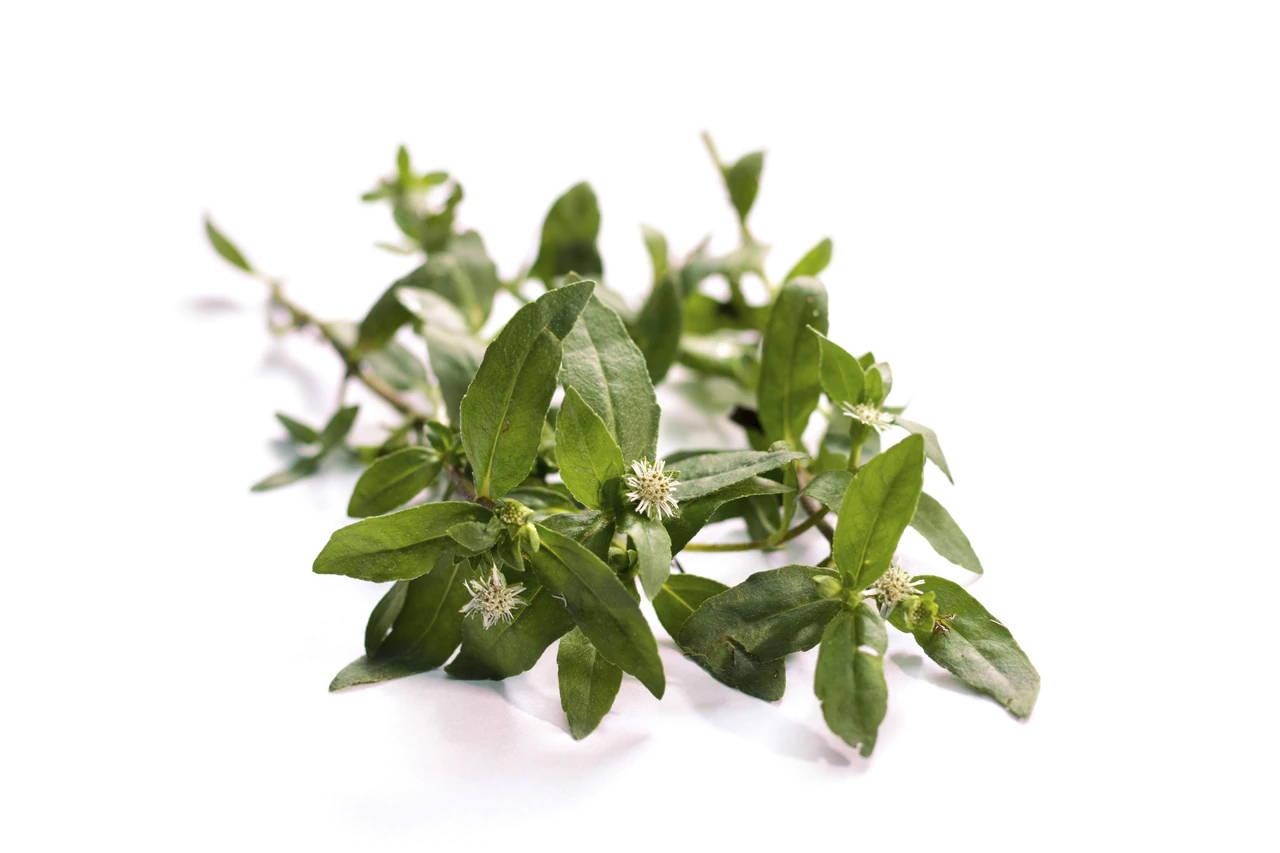 BENEFITS OF BHRINGRAJ FOR HAIR

When you spotted that first grey strand of hair you knew what was coming. But, now that the greying has gone into overdrive and before you know it you're considering colouring your hair every month, you know the situation has gone out of hand. Lucky for you, Bhringraj contains an element called haritaki which in the initial stages prevents the greying of hair. More importantly, it lends your hair its original colour back - restoring its natural lookup to a great extent.
2.
Prevents hair fall & promotes hair growth

Stress, deficiencies, hormonal imbalances, and the hundred other reasons that cause your hair to fall in larger amounts than usual need an effective cure instead of trial and error methods. Bhringraj and its deeply cooling effect on your head, reducing the effect of stress on your hair and nourishes your hair roots with the nutrients it has been missing and thus shedding off.
Moreover, Bhringraj plays a pivotal role in promoting hair growth by increasing blood circulation throughout your scalp and especially to your hair follicles. Studies show that the herb is most beneficial in curing baldness.
There's nothing more frustrating than wanting to scratch your head all day long. From hygiene, pollution, humidity, and any other enemy of your hair, an itchy and dandruff-prone scalp that is formed are, without a doubt, unhealthy and troubling. While you can use home-remedies like curd and natural Bhringraj hair oil to stop the inflammation, your hair might just need a whole detox. A cleansing solution like Sadhev's Ayurvedic Shampoo paired with the right conditioner can work wonders due to its anti-fungal and anti-inflammatory nature. It's cooling nature plus moisture addition factor makes it ideal for a dry, flaky scalp that needs hydration and care.
Even after fresher haircuts every month if your hair locks have an overall tendency to look dull, flat, and lifeless its a clear sign of hair damage. To get yourself out of the vicious cycle of boring hair, you need an antioxidant that can uplift your hair quality and bring out its real shine. Bhringraj works to support a healthy hair condition, making the locks voluminous, stronger, and adding to it a shiny texture.
BHRINGRAJ IN YOUR HAIR CARE ROUTINE

You might want to hunt down the Bhringraj herb in your local market, blend it into pastes, use it in DIY masks, crush it into a powder but all that enthusiasm has a high probability of dying out over time thanks to busy schedules. While many suggest using a ready-made product of Bhringraj oil for desired results, sometimes your hair might just need an extra push too. Moreover, gone were those childhood days where our grandmother could do our champi and make our problems vanish.
That's where Sadhev steps in. Following 'The Art Of Ayurveda', Sadhev and its Ayurvedic Shampoo has a blend of botanical ingredients you need to repair, restore and rejuvenate your hair and its quality. Its Bhringraj content serves as a rich source of iron, Vitamin E, Vitamin D, and magnesium - all that promote hair growth and prevent hair fall.
To add to this, it contains the Hibiscus flower's extracts that are a rich source of Vitamin C helping with further nourishment of hair. Its collagen-boosting feature gives strength to the hair thus again, reducing hair fall. Curry Leaves and Amla in the shampoo contain amino acids and fatty acids respectively that will add luster, shine, and a sensual shimmer.
Sadhev 200 ml Ayurvedic Shampoo paired with its Ayurvedic Hair Conditioner (constituents being Aloe Vera, Hibiscus Flower & Reetha) work as a dream team for your hair and its growth. Add to cart, shop the Ayurveda magic, and let your hair shine like in the movies!?
---